Made in Norte America, spoken word performance. 2014, Art Gallery of Windsor.




As a teenager, I worked for my dad in a home-based pharmaceutical business. It was difficult obtaining a part-time job in those days. For one thing, there wasn't such a thing as a part-time job; they have never existed where I lived. Second, I had no job experience at the age of fourteen. All I could do was attempt several personal ventures for earning money.

On one occasion, I purchased chocolate bars at the candy supplier to sell to corner stores in remote places.

Another time I wrote a poetry book. For a while, I was a born-again Christian and attended church for about eight years. In this book, I asked God "Why?" on many subjects. My grandfather had had a writing vocation, and I hoped I could follow his example.

One of the last attempts at creating my own job was working as a driver and apprentice in a wood shop. That didn't last very long. The only thing that the owner and I agreed on was the tamales my mom occasionally made.

As a result of all this, when my father had orders to fill in his pharmaceutical business, he would often ask me for help. In exchange for my assistance, he gave me money on a weekly basis. My dad had recently been demoted from his pharmacist job, and I must say that he was quite resourceful with the little money he had. His answer to the demotion was to create his own business instead.

We lived in Tegucigalpa, the capital of Honduras. My dad would travel to San Pedro Sula, an industrial city in the northern part of the country, almost every week. He would tell us that business there was booming, and he hoped he would expand his business there. And he eventually did.




Most of the time, he'd skip my paycheck. But when I did receive my pay, I would use whatever money I got to purchase what I needed. The job was simple and not especially inspiring: bottling pills into jars, labeling them, and then putting security seals on each lid. On special occasions, I would use a typewriter to write the invoices, although it was my dad's favorite role in the process. I can still clearly hear the strokes of each letter being typed.

My dad reconfigured our entire house into a productive, makeshift assembly plant. The setup extended into various rooms throughout the house. Outside my bedroom window, there was a sitting area for clients who would come to our home to place their orders. The kitchen no longer served as only the place to cook and eat breakfast, but rather as a passageway to the assembly area in the former garage.

When he needed extra hands, my father would hire two assistants to help in completing the large orders. Orlando and Erlin would come and stamp the labels with expiration dates and lot numbers, pack the pill bottles that were prepared at the dining room table the night before into cardboard boxes, and take them to the bus station to be shipped, all while my mother made food in the kitchen.

As I remember those times, I conjure not only the experience of working for my dad but also other jobs I've had. The sentences I type in the typewriter become makeshift labels. The memories of filling bottles of prenatal pills in my home, my mother cooking in the kitchen while clients waited outside, all of these emphasize for me the relationship between the "health" of one's identity, family relationships, and food.


Collection of bottles used in the performance at the Art Gallery of Windsor.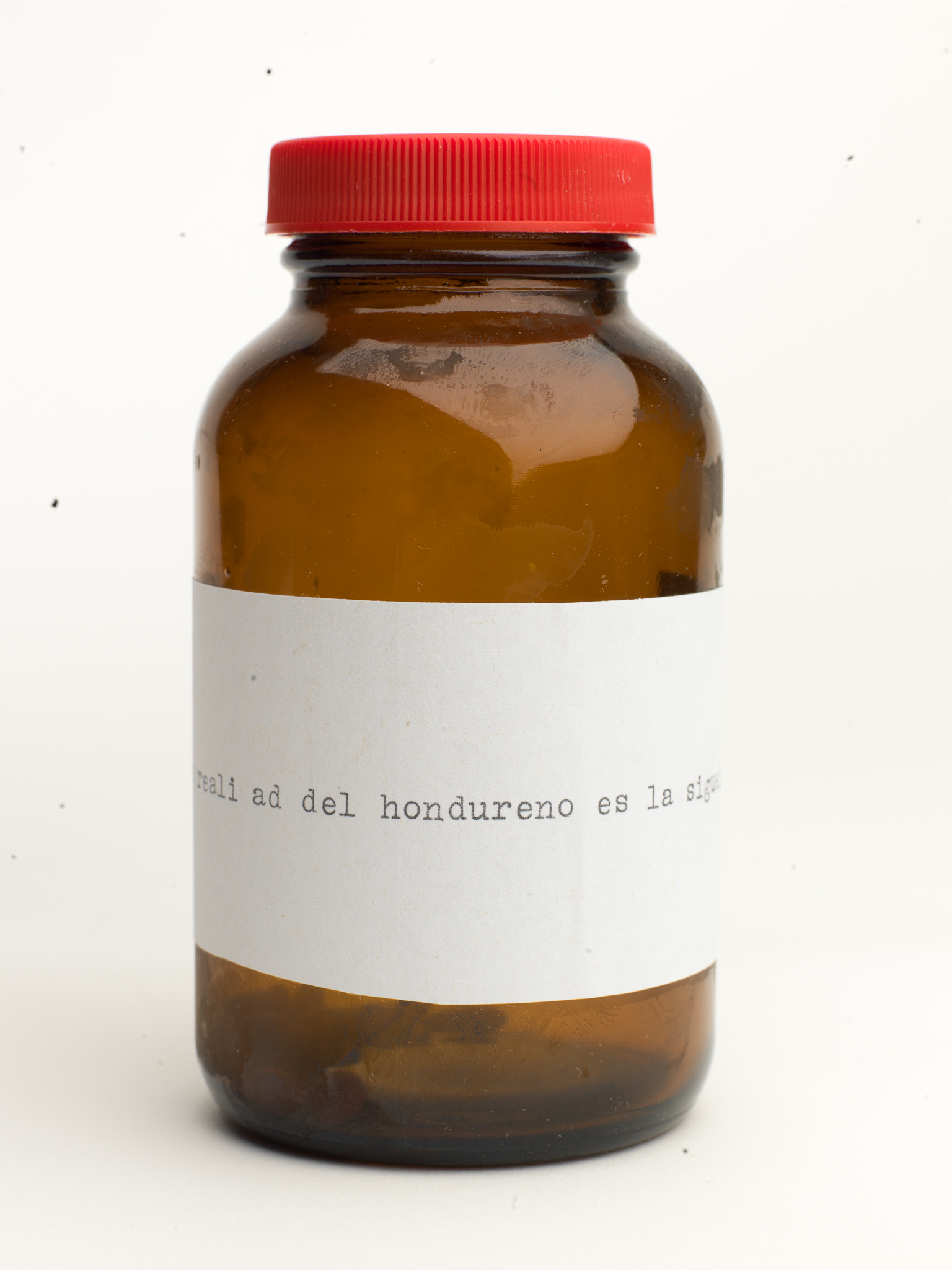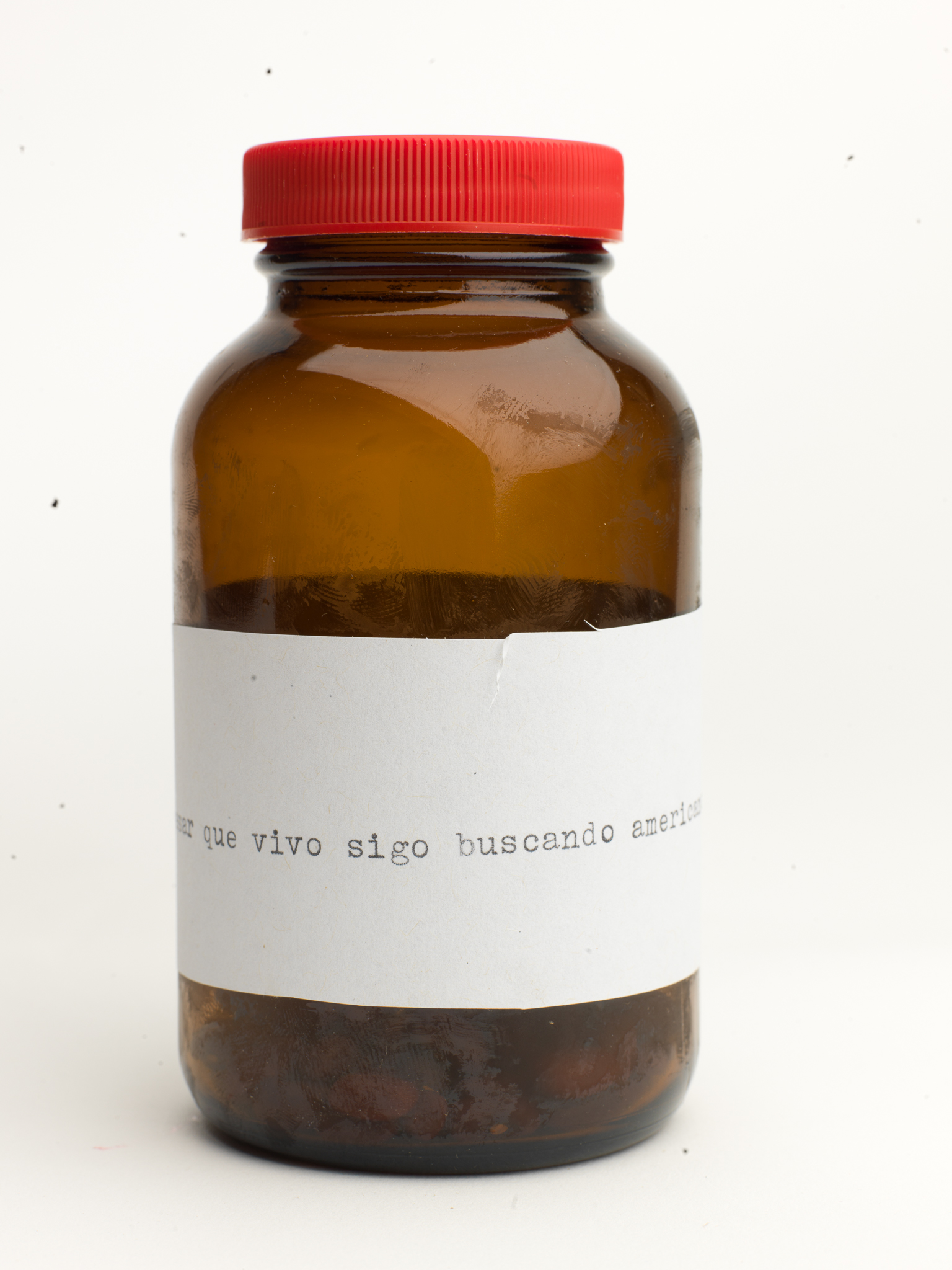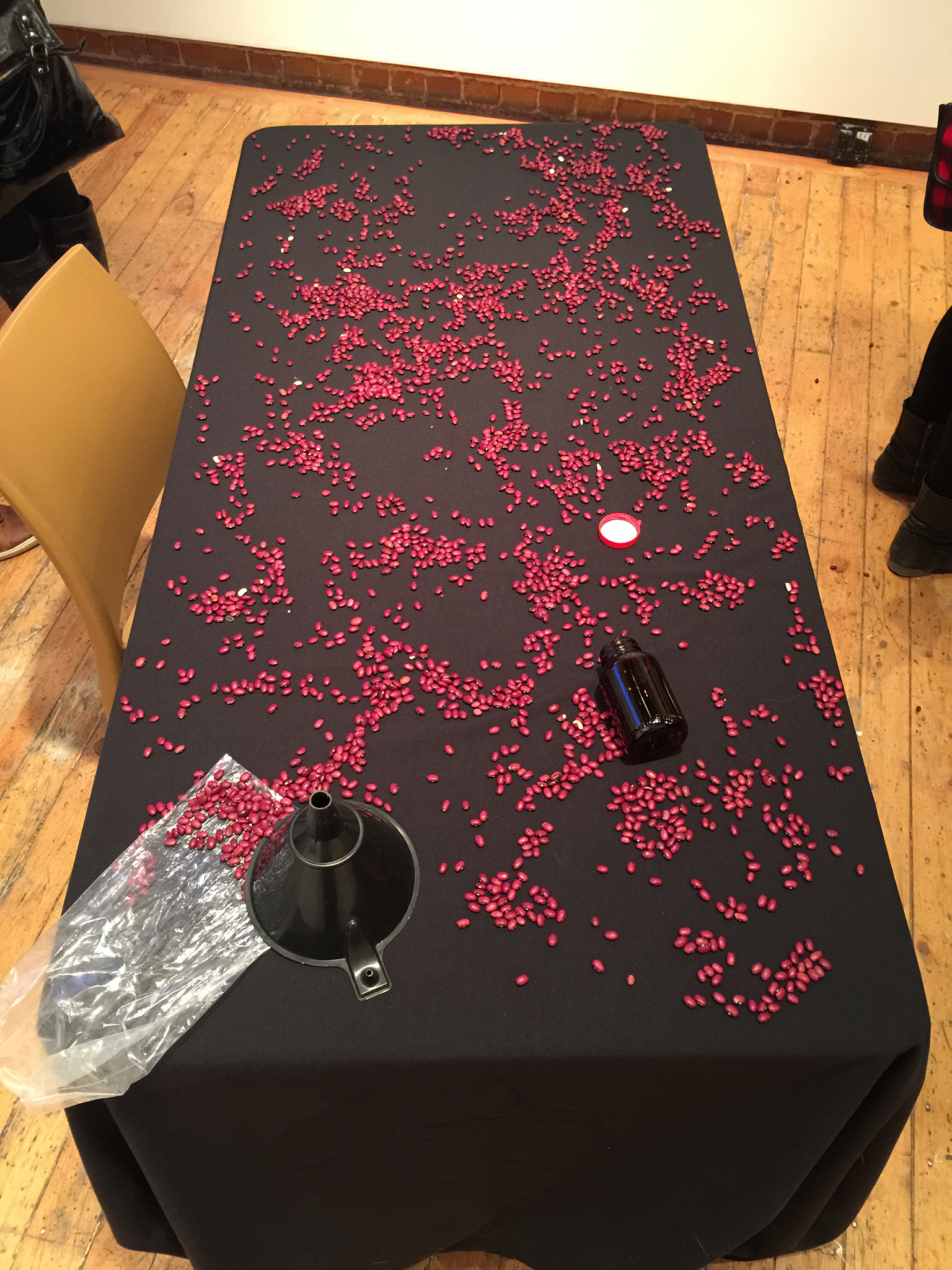 Made in Norte America, Performance residual, at the Gladstone Hotel, Toronto, Canada. 2013