---
The National Bird
Image: The Coyote, with David Sanders, from the series, The National Bird. Digital file, work in progress. Small Falls, Farmington, ME. Photo 2020.

The National Bird is an experimental performance series highlighting several migratory animal disguises. It builds on the premise that wild creatures can legally cross territorial boundaries anytime and anywhere without checkpoints. The performance begins by establishing the particular animal's surroundings and, on some occasions, negotiating the space by interacting with another animal from the series. The personal rituals, sounds, and movements are performed in front of an audience and, at other times, in front of a camera. As part of this process, the nuances and performative behaviors of the subject animal in each scene adapt qualities assigned to the animal by its character, history, and sometimes governments related to immigration. This body of work illuminates the privilege these animals have in their choice of travel, location of settlement, and ease of traversing borders, both in the physical and imaginary worlds.

---
Looking For America - A project of New American Economy, American University School of Public Affairs, and CuriosityConnects.us, Looking for America is a new initiative exploring immigration and American identity in six dynamic communities across the United States through public art, storytelling, and dialogue.

In each community, Looking for America partners with local cultural institutions to curate art exhibitions featuring immigrant and U.S.-born artists who answer the question, "What does it mean to be American in your community?" Community members from different backgrounds and political identities are invited to engage with each exhibition and offer their own perspectives and stories over a shared meal.

My Name Is The Name Of The Republic, oil and acrylic on engraved wood panel. Group show, Looking For America. The Detroit historical Museum.

---
The National Bird, performance art. 7th Annual Sidewalk Festival, Peace, Power, Utopia @sidewalkdetroit - public interaction, August 3, 2019. Selected images, digital and Polaroids.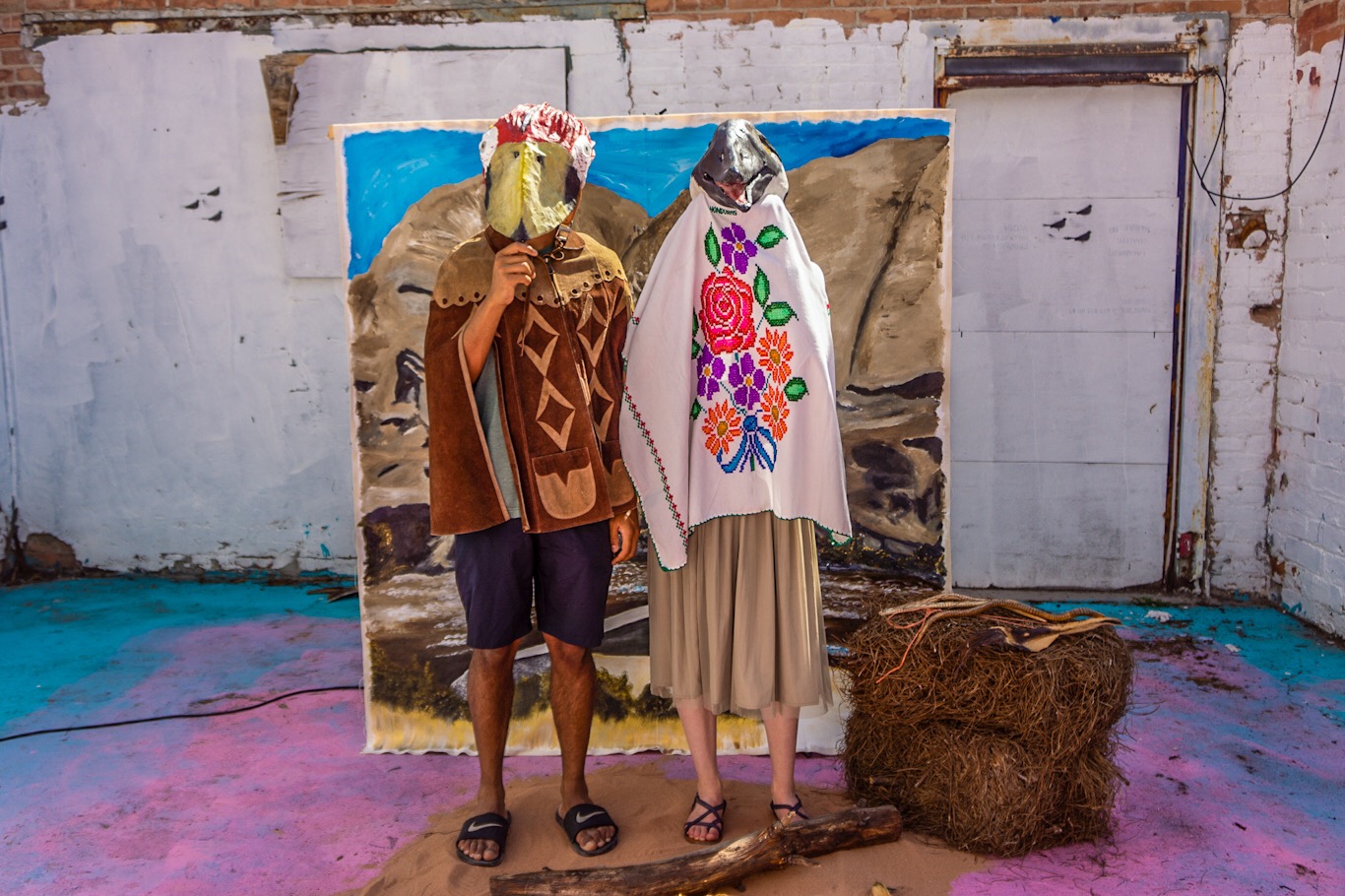 ---
A photo essay. The National Bird, through the Columbia and Snake River, July 10 - 22, 2019. Selected Images.
"...I am currently traveling on a boat on the Columbia and Snake Rivers, doing my photo research-based project, which follows the path that Lewis and Clark took on their first American expedition of the West in the late 1700s. As part of the series The National Bird, I am capturing experiential moments disguised as the Macaw, the national bird of Honduras, in places of national interest such as monuments, national parks, and tourist attractions."


---
La Guacamaya
La Guacamaya, performance art. Plaster, acrylics, gems, wire, and leather. Print 16 x 20" (40.64 x 50.8cm.) Digital medium format. 2018. Tags: diplomat, friendly, pet, loud.
---
La Guacamaya, performance photography, single digital images, medium format. GIF file 0:20 sec on Loop. 2018.
---
El Águila
El Águila, mask, work in progress. Performance art. Sketch, acrylic on paper. 8 x 8.25" (20.32 x 20.95 cm.) 2019.
---
El Coyote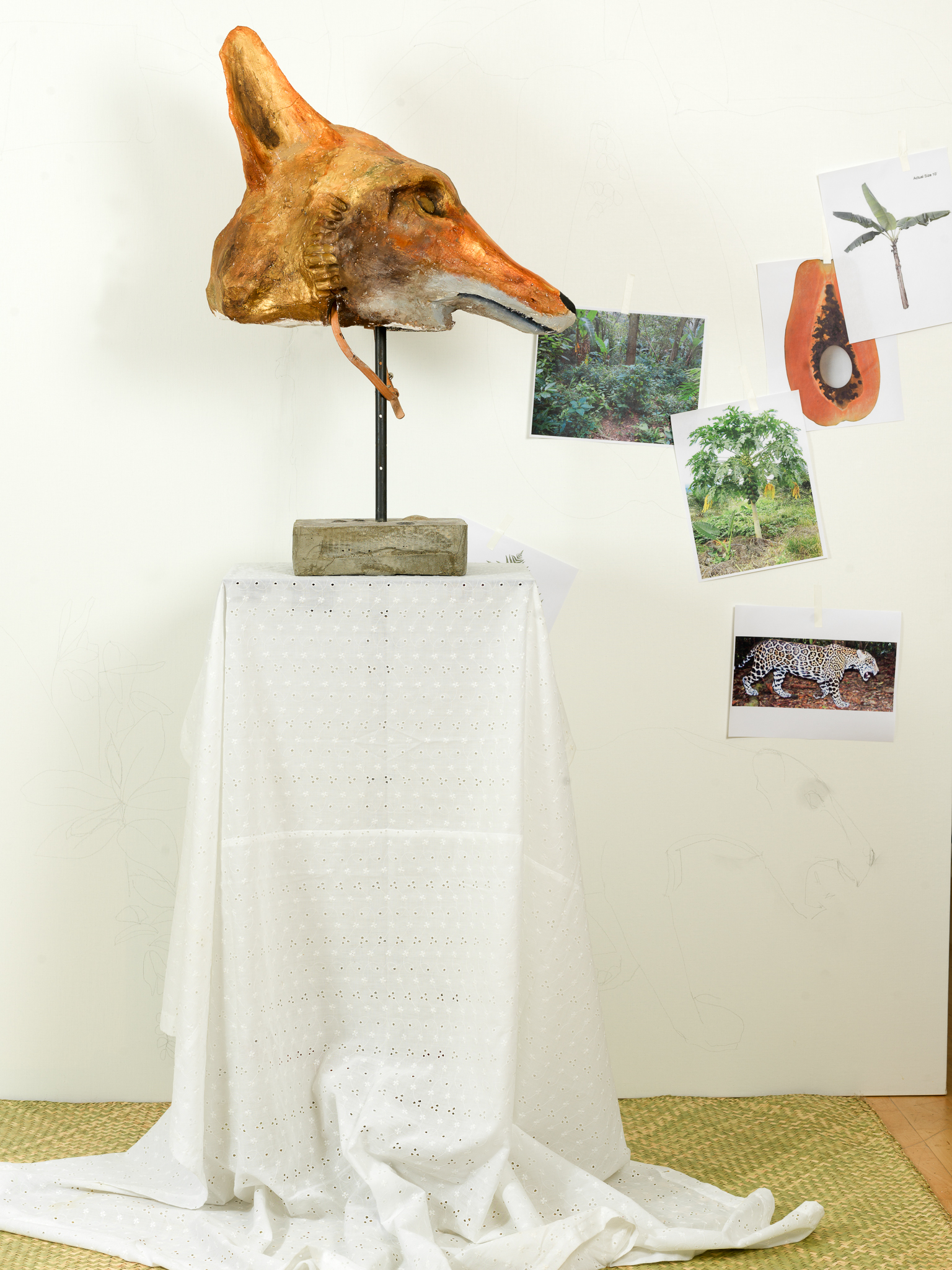 El Coyote, performance art, 2019. Work in progress. Tags: trickster, hunter day/night, Coyote/Fox/Wolf, smuggler.
---
El Ganso
El Ganso, "landing." 12.25 x 15.25" (31.11 x 39.49 cm) Performance art. 2019.
---
El Ganso, #03, #01, digital medium format. 7 x 7" (17.78 x 17.78 cm). 2019. Tags: front line fighter, unafraid.
---
---