---
Performance Art
Sculpture/Photogrphy
2018-Ongoing
The National Bird


Photo Essay - "The National Bird," Through the Columbia and Snake River, July, 2019. Selected Images.


In my most recent performance-photography series, entitled "The National Bird," I personify different migratory animals, building on the premise that wild creatures can legally cross territorial boundaries without checkpoints, anytime and anywhere. Each piece begins with the composition of masks and props, progressing through a series of personal rituals that I perform in front of the camera. While documenting this process, I capture nuances and performative behaviors of the subject animal in each photo frame and sometimes adapt qualities assigned to it by history and sometimes governments, which help me articulate details of broad and complex subjects. These performative exercises attempt to illuminate the privilege nonhumans have pertaining to choice of travel, location for settlement, and ease of traversing borders, both the physical and the imaginary.
La Guacamaya
La Guacamaya, performance art. Plaster, acrylics, gems, wire, and leather. Print 16 x 20" (40.64 x 50.8cm.) Digital medium format. 2018.
---
La Guacamaya, performance photography, single digital images, medium format. GIF file 0:20 sec on Loop. 2018.
---
El Águila
El Águila, mask, work in progress. Performance art. Sketch, acrylic on paper. 8 x 8.25" (20.32 x 20.95 cm.) 2019.
---
El Coyote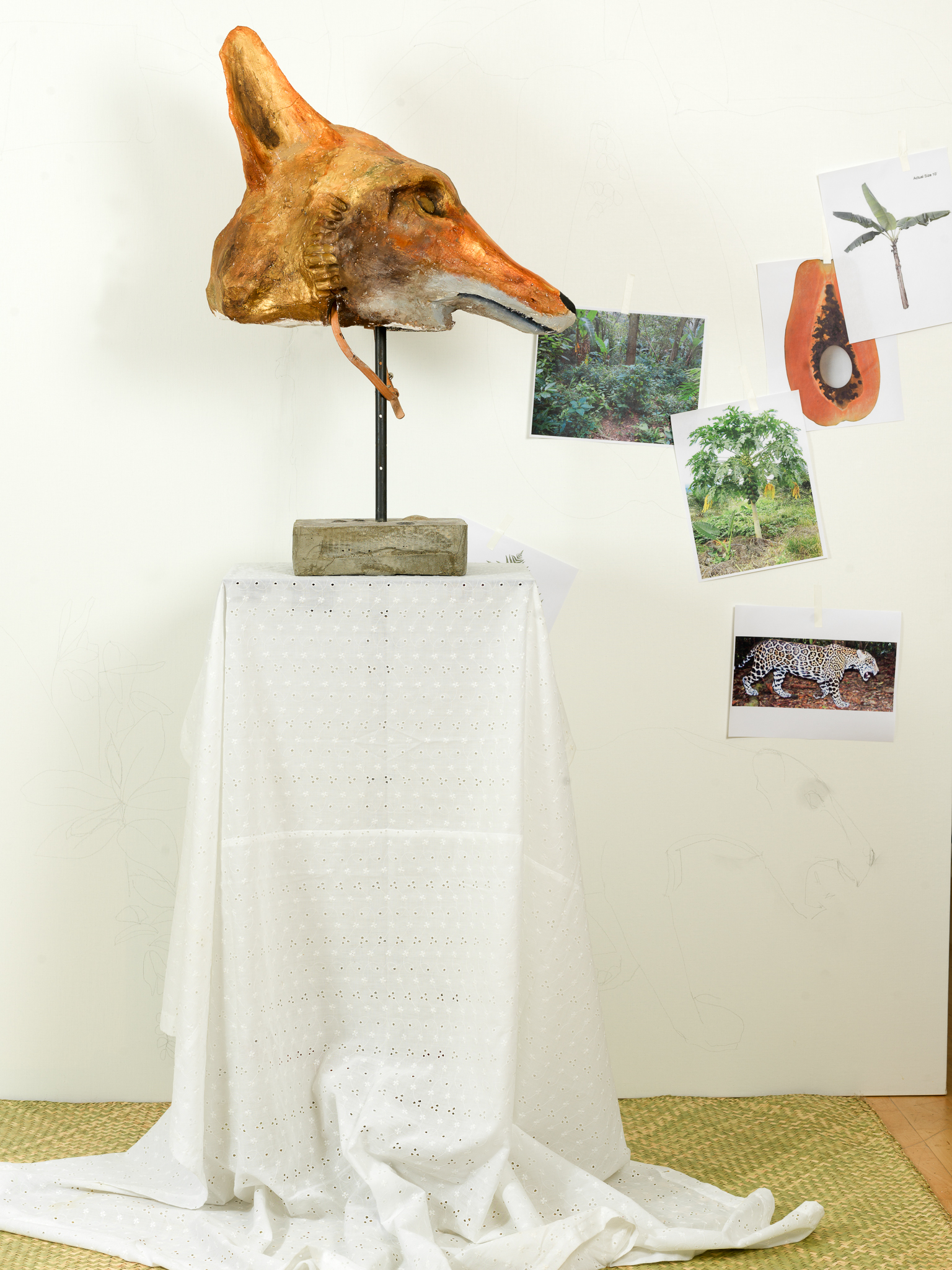 El Coyote, performance art, 2019. Work in progress.
---
El Ganso
El Ganso, "landing." 12.25 x 15.25" (31.11 x 39.49 cm) Performance art. 2019.
---
El Ganso, #03, #01, digital medium format. 7 x 7" (17.78 x 17.78 cm). 2019.
---
---